DAY 16 - Tuesday, July 23, 1968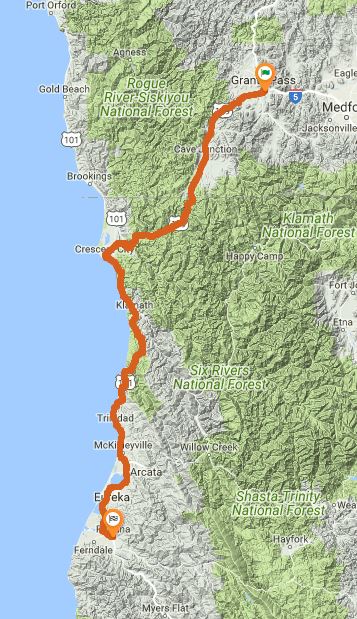 Chapter 29
This is a lot of things to do before checkout time, so I wake up Chris and tell him to get up. I wheel back and stop for Chris, check the laundry he's put in the drier and putt along through the cheerful streets looking for a restaurant. Traffic everywhere, alert, well-maintained cars, most of them.
He lists numerous errands and purchases to make this morning, full list omitted here.
At the edge of town we find a restaurant and sit and wait at a red and white tableclothed table. We're packed and out of the motel at just about check-out time and are soon into the coastal redwood forest, across out of Oregon into California.
Most modern check-out times are 11AM, so they're off to a slow start due to the errands. Only 184 miles on the day as a result. Crossing into California on US-199.
The grey rainy skies and sign-strewn road descend to Crescent City, California, grey and cold and wet, and Chris and I look and see the water, the ocean, in the distance beyond piers and grey buildings. I remember this was our great goal all these days. We enter a restaurant with a fancy red carpet and fancy menus with extremely high prices. We are the only people here. We eat silently, pay and are on the road again, south now, cold and misty.
Crescent City is a little over 80 miles into the day, under 2 hours. But it would be lunchtime due to their late start. It would be the first time they saw the coast on the trip.
We follow the coast now, cold, wet and depressed. The rain has let up, temporarily, but the sky shows no hope. At one point I see a beach and some people walking on it in the wet sand. I'm tired and so I stop. We should reach Arcata before dark but I don't want to go too fast on this wet road.
Crescent City to Arcata is 75 miles, and is all along the coast (US-101). Nailing down the rest stop beach location is impossible.
The road has become so dark I have to turn on my headlight now to follow it through these mists and rain.
It sounds like at this point the road is dark due to the rain, not because it's getting too late. Not yet. No location references here, just a rainy setting.
Chapter 30
AT ARCATA WE ENTER A SMALL DINER, COLD AND WET, AND eat chili and beans and drink coffee. Then we are back on the road again, freeway now, fast and wet.
This is dinner in Arcata. The road is still US-101, but it turn into a freeway in Arcata.
We'll go to within an easy day's distance from San Francisco and then stop.
What's an "easy day's distance"? I don't know. As we'll see below, there aren't many options for the night's stop and this information doesn't help.
We take the next exit from the freeway, hoping it will lead somewhere, and soon are on bumpy blacktop with ruts and loose gravel.
The author has been describing his troubles seeing on the road through the rain and his tiredness. And we have no reference as to what the "next exit" is.
Now I see ahead a white glow and bright sign of a filling station far down the street. It's open. We pull up and go inside. The attendant, who looks Chris's age, watches us strangely. He doesn't know of any motel. I go to the telephone directory, find some and tell him the street addresses, and he tries to give directions but they're poor. I call the motel he says is closest, make a reservation and confirm the directions.
The town here for this motel is unknown. There are few options, we know it's south of Arcata from above, and we know it's north of Weott from tomorrow morning's breakfast.

Some possible options are Eureka, Fortuna, Rio Dell, and Redcrest.

Eureka seems too close to Arcata and too far from San Francisco, given the freeway descriptions and the desire to get as close to San Francisco as possible.
Redcrest is past the entrance of the "Avenue of the Giants", and only has resorts, no motels.
Of the remaining two towns with motels, Fortuna is larger and has more options, though Rio Dell is a possibility. Fortuna also looks disjointed and more easy to get lost per the description. Rio Dell is a very small town of about 3400 people in modern times, Fortuna is about 3 times that.

Long story short, my conclusion is that they stay in Fortuna, CA for the night. That ends up being just under 300 miles from San Francisco, which is definitely doable (but will be one of their longer days).
...Continue to Day 17