DAY 12 - Friday, July 19, 1968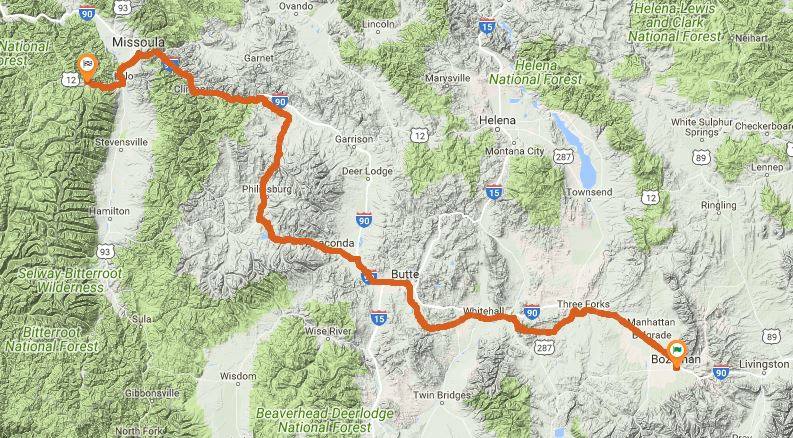 Chapter 22
THE NEXT MORNING WE CHECK OUT OF THE HOTEL FEELING refreshed, say goodbye to the DeWeeses, and head north on the open road out of Bozeman.
The last night in Bozeman they stayed in a hotel. At this point I'll get back on track with the trip after the break of days 7 - 11.
At Three Forks the road cuts into a narrow canyon of whitish-tan rock, past some Lewis and Clark caves.
This is Lewis and Clark Cavern State Park on Hwy 2.
East of Butte we go up a long hard grade, cross the Continental Divide, then go down into a valley.
The continental divide is easily found on Hwy 2 in Deerlodge National Forest.
Later we pass the great stack of the Anaconda smelter, turn into the town of Anaconda and find a good restaurant with steak and coffee.
Here's lunch for the day in Anaconda, about 120 miles in on the day, having already gone through Butte, MT.
We go up a long grade that leads to a lake surrounded by pine forests and past some fishermen who push a small boat into the water. Then the road winds down again through the pine forest, and I see by the angle of the sun that the morning is almost ended. We pass through Phillipsburg and are off into valley meadows. The head wind becomes more gusty here, so I slow down to fifty-five to lessen it a little. We go through Maxville and by the time we reach Hall are badly in need of a rest. We find a churchyard by the side of the road and stop.
More detailed descriptions with given town names, it's easy to follow the path this day. Right along the highway is Hall Methodist Church, which seems the prime candidate for the churchyard.
On either side of us the mountains have become steep, to form a long narrow valley that winds into Missoula. This head wind has worn me down and I'm tired now. Chris taps me and points to a high hill with a large painted M on it.

At a station where we fill with gas, Chris keeps asking to go up to the M, but I can see from here it's a steep, rutty, scrambler road. We stretch our legs for a while, walk around and then somewhat wearily head out of Missoula toward Lolo Pass.
The M on the east side of Missoula and the scrambler road leading to it are readily visible from satellite imagery. This is just a gas & rest stop.
At Lolo Pass we see a restaurant, and pull up in front of it beside an old Harley high-miler. Inside we fill up on pizza and milk, and when finished leave right away.
Now we get to some potential ambiguity in the book, so let's pay close attention.
Here he says at "Lolo Pass". The only thing *at* Lolo Pass itself is a visitor center. However, there is a town of "Lolo" they would have passed through prior to the pass. This town has restaurants, including pizza places which I think are the most likely option for their dinner stop. Going closer to the pass from Lolo, at least in modern day, there are no more restaurants.
As we leave we see the cross-country man by the cycles with his wife and we say hello. Chris says, "We're going to camp just down the road." "At one of the campsites?" "No, just somewhere off the road," I say.
There still are plenty of actual campsites in the area, I will most likely stay at one of those.
After five or ten miles we see some logging road turn-offs and head up.
Five to ten miles west of the town of Lolo and we still haven't crossed over the pass yet. It's actually about 33 miles from Lolo to Lolo Pass itself. This seems fine for today, we'll assume for now that they stopped PRIOR to the pass.
We see side roads off the main logging road but I stay on the main one until after about a mile we come to some bulldozers. That means they're still logging here. We turn back and head up one of the side roads. After about half a mile we come to a tree fallen across the road. That's good. That means this road has been abandoned. I say, "This is it" to Chris, and he gets off. We're on a slope that allows us to see over unbroken forest for miles.
Just a description of how they find their camping site. Sounds adventurous, if possible I may try to accomplish something similar. We'll see.
Chapter 23
This entire chapter is a dream, they do no travelling.
...Continue to Day 13