DAY 13 - Saturday, July 20, 1968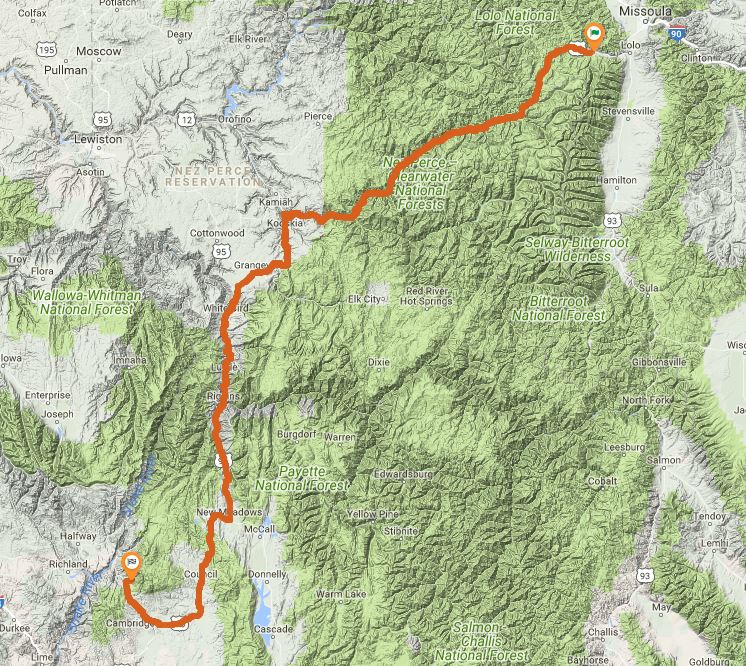 Chapter 24
in low gear we follow the logging road down to where it meets the blacktop again. Before we start on it I take one last look back up. Nice. A nice spot. From here the blacktop winds down and down. This road keeps on winding down through this canyon.
This is where the problem begins. Yesterday we figured, based on the description and distances, that they stopped for the night near the numerous campsites, and BEFORE Lolo Pass itself. Yet now in the morning, he describes nothing but going down. The first part going down the logging road makes sense. It's the second part where he says "from here the blacktop winds down and down". This indicates that they're already on the other side of the pass.

So it's unclear if they went over the pass last night and stealth camped up a logging road, making his distance estimate incorrect from the restaurant, or if they hadn't crossed the pass last night, and actually crossed over in the morning, making today's description of nothing but going down incorrect.

Trying to examine the data from an oblique route, there are logging roads on both sides of the pass. No help there. Could he have bypassed the pass by going up one logging road and down another? It's technically possible, but seems very unlikely and again doesn't match the route. If we examine day 12 and day 13's distances, day 12 is a bit shorter. We could simply try to even them out, meaning we would push day 12 over the pass to shorten day 13, but that doesn't seem like quality logic either. But there was one clause I omitted from yesterday's text...
There's not much sunlight left, and a search for a campsite after dark is difficult and unpleasant.
This was actually in chapter 22 from yesterday. But it's a second clue, which reinforces the distance from Lolo reference. If they were already running late in the day, possibly because they left the hotel and went to say goodbye to the DeWeese's late in the day, it's unlikely they would have pushed another 20-30 miles to get over the pass before turning up a logging road.

Based on this additional clue, I feel it's more likely that they camped prior to the pass, and Pirsig's description of the morning of day 13 simply omitted the first few miles and crossing over the pass to focus on the descent, heading for breakfast.
The cycle hums through the cold air and mountain pines and we pass a small sign that says a breakfast place is a mile ahead. Soon a second sign saying CABINS with an arrow under it points off to the left. We slow down, turn and follow a dirt road until it reaches some varnished log cabins under some trees.

We sit down at a tableclothed table and order eggs, hot cakes, maple syrup, milk, sausages and orange juice.
There are two options that seem to match this description, the first and most likely option is Lochsa Lodge. It's right down the road about 12 miles from Lolo Pass. Apparently this lodge was build in 1929, and currently serves breakfast, lunch, and dinner - 7 days / week, 365 days / year. The sign from the street even still says "Cabins" on it.
Secondly, in modern day there is "Ryan's Wilderness Lodge", another breakfast option, and just past that across a bridge are some cabins.
On the road down the canyon now we feel the steady drop of altitude by a popping of ears.
s too hot for the jacket and sweater so I stop at a roadside pulloff to remove them. Chris wants to go hiking up a trail and I let him, finding a small shady spot to sit back and rest. Just quiet now, and meditative. A display describes a fire burn that took place here years ago.
This is just a rest stop, currently unknown location. Is the fire burn the "Great Fire of 1910"?
Highway 13 follows another branch of our river but now it goes upstream past old sawmill towns and sleepy scenery. Sometimes when you switch from a federal to a state highway it seems like you drop back like this in time.
US-12, which they've been following so far this morning, joins Highway 13 (ID-13) in Kooskia, ID. This junction is where the South Fork of the Clearwater River joins the main river.
At the top of the plateau at Grangeville, Idaho, we step from the blasting heat into an air-conditioned restaurant. Deep cool inside. We wait for chocolate malteds.
Lunch in Grangeville - or just snack? We're 150 miles into the day, almost exactly halfway. We'll assume this is lunch.
I see our road will go down and down through what must be a hundred hairpin turns into a desert of broken land and crags. I tap Chris's knee and point and as we round a turn where we see it all I hear him holler, "Wow!" By the time our cycle has reached the bottom of wherever it is we are, we have dropped thousands of feet.
Just a few miles south of Grangeville, "Old Highway 95" breaks off from the modern highway 95, and clearly matches this description with a number of switchbacks. Probably more like 20.
Chapter 25
The road has twisted and rolled over desert hills into a little, narrow thread of green surrounding the town of White Bird, then proceeded on to a big fast river, the Salmon, flowing between high canyon walls.
White Bird is almost immediately after the switchbacks, so we haven't learned much here. The Salmon river joins in just south.
After many turns in the canyon wall we stop for a break under a scrubby little patch of small trees and rocks. The grass around the trees is burned and brown and scattered with litter from picnickers.
Chris doesn't even go over to see the river, something he'd normally do.
South of White Bird, Hwy 95 crosses the Salmon river twice in succession. Immediately after the second crossing there is a location that seems to match this description and location. Seems to be a small boat launch and rest stop area. There are more pull-offs to the south before Riggins as well, any of which are a possibility.
A town called Riggins comes up and we see a lot of motels, and afterward the road branches away from the canyon and follows a smaller stream.
Just continuing on. Riggins is about 30 miles from White Bird.
At a town called New Meadows we fill up again and buy two cans of oil, still surprised at the change.
We pass Tamarack and the road drops down again from green meadows into dry sandy country.

We stop at an abandoned school yard and under a huge cottonwood tree I change the oil in the cycle.
New Meadows and Tamarack are close to each other. The stop is going to be hard to find, if the school was abandoned 50 years ago there's little chance it's still standing. And that cottonwood tree is certainly dead now.
At a town called Cambridge we have supper and when we are finished, it's dark out.
We follow the headlight beam down a secondary road toward Oregon to a little sign saying "BROWNLEE CAMPGROUND," which appears to be in a draw of the mountains.
All quite direct and self-explanatory, very easy to follow on the map. Brownlee Campground is still there.
...Continue to Day 14